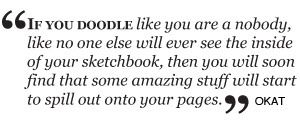 I recently bought a book called '
Sketchbook
' by Timothy O'Donnell. A very inspiring book that shows the sketch books of designers, revealing those initial concept sketches.
The book encourages designers to start drawing and doodling before going to the computer and starting to create.
There is something very beautiful and fascinating about sketch books, they give a small glimse into the inner workings of a creative mind.
For some inspiration:
Ted McGrath, and his
awesome doodles
, and an amazing
sketch book interview
Treat and Treasures
a sketch book journal blog.
Underground Art School Zine,
Sketch book issue
.