This post is only really relevant to those of us in the southern hemisphere.
I'm absolutely freezing, and still wearing many layers, but I have noticed the shops are already gearing up for spring. And the look for spring is frilly skirts, light floral dresses and blouses, belted volume and denim.
I made a little collage on polyvore, to give you a sense of the up coming spring trends. if you are keen to know more about spring fashion trends visit
fashion-era
, they go through the trends in more detail.
And a few etsy finds to get you in the mood for spring things.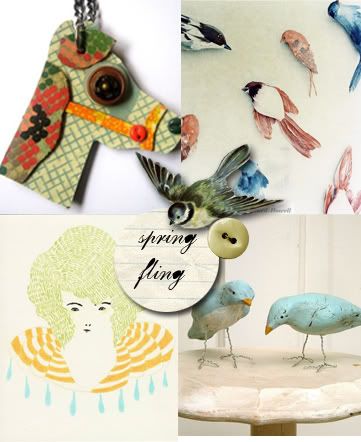 (1) Pip the pony, lino pendant-
Betty Jo Designs

(2)Birds paper negative-
Beard and Howell
(3)Droplets-
Clever nettle

(4)Blue bird wedding cake topper -
Middleburg